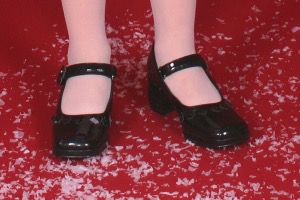 When I saw this picture of these shoes, it reminded me of the Sunday shoes I used to have when I was a little girl.
I had one pair of black patent leather Mary Jane shoes for Sunday school and church.
I had one pair of shoes for school.
When I came home from school, I changed into my one pair of shoes for play.
Each year, as I outgrew my shoes, my mother bought another pair of shoes that looked just like the shoes I had just outgrown.
My mother bought Buster Brown. She said they were shoes of better quality.
We dressed in the finest clothes we had when we went to church. I wore a hat and white gloves for church, and I carried a purse that matched the black patent shoes.
My mama would spray me with 'To a Wild Rose' Avon Cologne.
I had a church coat. I had a school coat. I had a coat that I wore for bicycle riding and playing outside after school.
I never played outside after school in my Sunday shoes.